Entries are now closed for the 2022/2023 season - you can register on the mailing list to get a reminder for when entries open for the 2023/2024 season HERE
The Polar Bear Challenges and Penguin Challenges run from 1 November to 31 March and the aim is to complete a set number of swims and distances outdoors in the sea, river, lake or unheated lido during this period over the winter. All successful finishers will receive a certificate, a sew on badge and a medal.
The Polar Bear Challenge is run under the clothing rules of the International Ice Swimming Association and the Channel Swimming & Piloting Federation which means that the only attire allowed is one standard swimsuit ( which may not extend over the shoulders or below the knees ), a single standard silicone or latex swimhat ( no bubble or fancy hats), goggles, noseclips and earplugs if required.
For the Penguin Challenge there are no clothing rules - you can wear whatever you like including wetsuit. gloves, boots etc..
Please read the FAQs if you need a medical support or other device because of illness /injury.
Swimmers from all countries are welcome to take part but your winter swimming temperatures must be no higher than UK winter swimming temperatures.
You must be 18 or over to enter the Challenge.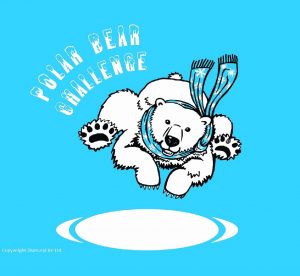 How it works - enter the Challenge by choosing your Challenge level and registering with EventBrite.
If, during the course of The Challenge, you find the going tough you can drop down through the levels but you can't go up. e.g. You can start as Jedi and drop down all the way to Penguin but you can't upgrade from Gold to Arctic. You may swap from Polar Bear to any Penguin level at any time but you cannot swap from Penguin to Polar Bear.
Swim the swims relevant to your chosen level in your own time but make sure that you complete all the required swims and distances each month. For Jedi or Ninja Challenge the specified swims do not have to be done in any particular order. You do not need to provide evidence of your swims other than for the Jedi or Ninja swims at 7.00 degrees or less in which case a photograph of two thermometers recording the temperature needs to be submitted.
( Thermometers can be the aquarium type with a probe that you can pick upon ebay or something similar )
At the end of each month an online form will be emailed to you to complete and return confirming that you have completed that month's swims. There's also a facebook group so you can join in with the other Polar Bear & Penguin swimmers and share pics and stories and get information.
You'll receive regular emails from MamaBear with hints and tips - especially in the run up to the start of the Challenge - and I'm always here to give advice should you need it.
Except for the Penguin Challenge only a swimsuit, single silicone hat, goggles and earplugs may be worn. No neoprene, wetsuits, boots or gloves may be worn.
When your final March swim is done you will receive a sew on badge and a certificate and a medal.